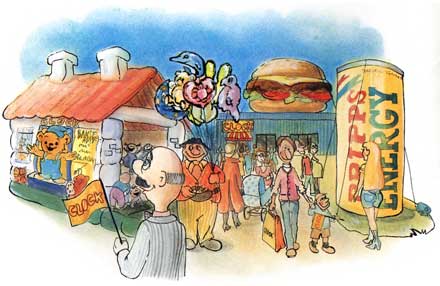 Welcome to a world of balloons
This is probably one of the most inflated web sites you'll find in Europe. We have inflated moreballoons than most during the years and we are looking forward to inflate even more!
We print on balloons!
If you are looking for quality latex balloons you have come to the right place. We sell only naturallatex balloons in sizes from 22 cm to 145 cm. All are manufactured with the strictest quality standards in the industry, assuring you of the best balloons money can buy. The "yield", or number ofballoons that you fill and keep without breaking is the feature that really counts. Not all balloons are created equal!
Paper flags and pennants
Colourful paper flags are attractive, economical and ever popular, especially with the little ones. A unique way to spread your advertising message by hand! We offer a fantastic variety of printing possibilities in combination with two different flag sizes.
Ask us – we're promotion material experts!
Our business model builds on competitive prices, high qualtiy and a broad marketing knowledge to help our customers stick out and be seen. With a long experince with balloons, inflatable marketing products, deep knowledge to give good advice alongside a high level of service, we intend to create long-term and stable relationships with our cusomers!